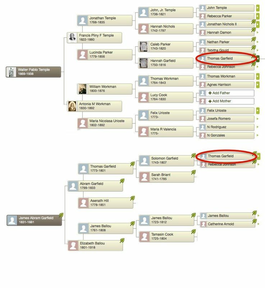 After about an hour on Ancestry.com last fall, I found that Temple City founder Walter Pablo Temple's father F.P.F. Temple, was the son of Jonathan Temple and Lucinda Parker (1779-1856), who was the daughter of Caleb Parker and Hannah Garfield (1750-1816), who was the daughter of Thomas Garfield 1713-1774.
That same Thomas Garfield was also the father of Solomon Garfield (1743-1807), who was the father of Thomas Garfield (1773-1801, who was the father of Abram Garfield (1799-1833), who was the father of James Abram Garfield (1831-1881), who was the 20th and the last "log cabin" president of the United States.
Thus, if Ancestry.com and its members are to be believed, Walter P. Temple was Pres. Garfield's third cousin. Of course, Garfield is better known to history as a target than a president (see Wikipedia). He died from complications of a gunshot wound in 1881 after serving less than a year.
Had anyone kept track, we might all have attended Garfield High School!
BTW, Pres. Garfield's wife Lucretia died in South Pasadena in 1918, so the SG Valley connection went beyond ancestry.
And BTW, the little leaves in the graphic are the same ones advertised on TV, by Ancestry.com so if any of our readers are Ancestry nerds, they might like to check my work and fill in the gaps, or, of course, refute and chastise me. :-)
(This item is revised from an earlier report, adding a better family tree graphic and additional Garfield family information.)
RC